Shopclues is India's number one online shopping site that offers products at cheapest price.I can remember when Shopclues first launched their site,they offered "Jaw dropping deal".I bought 3 torch lights with battery at rs.30 – it was an awesome deal.However that was all promotional deal,but still, you can find reasonable price comparing other eCommerce sites.
However if you are blog owner or if you have site content regarding coupon codes,Price Comparison,recharge or any other site – you can apply for affiliate partner.Joining in Shopclues affiliate program will let you earn up to 7 % flat commission for each successful transaction through your link.
How To Join ?
You can't access affiliate dashboard right after registration.You need to apply for being an active affiliate partner.Follow the below steps :
First, visit Shopclues
Scroll to bottom & click on "Become an affiliate"
Fill the affiliate signup form
Click on "Submit button"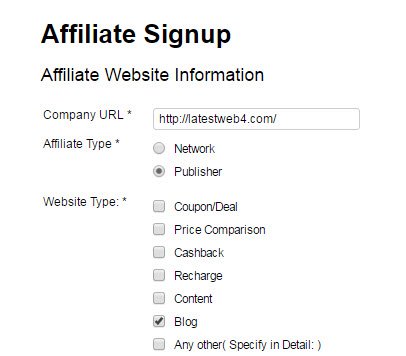 Form Filling Guide :
You need to put Affiliate Website Information.The basics are :
Company URL – Enter your website URL where you will advertise Shopclues offer & discount.
Affiliate type – Please clear affiliate type whether its network or single publisher.
Website type – Select website content details (Blog/Cashback /Recharge /Content or price comparison)
Monthly Traffic – Mention your monthly visits,it start from 1000
Company Information – Fill the details about company and address
Contact – Provide contact information (Name,Email,phone number,work phone etc.)
Affiliate Payment Information : This section is very important as you will receive payment to your bank account.Enter bank name & account number.Submit your PAN (Personal Account Number) number.If you don't have you can leave it but later you have to provide PAN details according to India Government rules.
When you submit application form you will receive "Thank you" message.You can also check your email inbox where you can see –
Hi Latestweb4,

Thank you for signing up for the Shopclues.com Network. If your application is approved you will receive your log in information containing a username and password reset link. Approval time can take up to 1-3 business days.
We appreciate your interest in Shopclues.com and thank you for choosing to sign up at the Shopclues.com Network.
Best Regards,
The Shopclues.com Team

Affiliate FAQ :
Benefits of Shopclues Affiliate program :
You get user-friendly dashboard which provides all minute details about affiliate selling.
You can track the performance on real time.
They offer easy transaction validation process & you get latest offer widget.
What is joining cost ?
Joining in their affiliate program is 100% free.All you have to wait for their reply whether your application is approved or rejected.
Which products are eligible to earn commission ?
Almost all products are eligible for earning the commission.As soon as products are sold via your link it credited to your account.
What is affiliate tracking parameter ?
The parameter simply refers to the unique tracking ID that should be included with your product link.
What is the minimum payment threshold ?
For receiving payment you need to accumulate at least INR 1500.If you earn below 1500 then the amount will be carried to the next month until it reach rs. 1500/-
What is the payment mode ?
Shopclues has only one payment mode which is Electronic Fund Transfer (EFT)
Can anyone join without a website ?
Right now Shopclues only approve those who have blog or website content.
Whom should I contact for any issue ?
You can always contact Shopclues affiliate team for resolving any issue.You can email them at affiliateteam@shopclues.com for any queries about the program