UCO Bank Rewardz, is a customer loyalty program for all UCO bank account holders.You can read my previous post where I have explained how to join at UCO rewardz program.Once you successfully registered your debit card, you are eligible to earn points upon transactions.You can earn points with your UCO bank debit card (VISA or RUPAY)for online shopping,booking tickets, paying electricity bills, internet banking and ATM withdrawal services.
Before I show you step by step recharge process, I request you to write down your UCO Rewardz A/C user ID and password for future use.If you forget your account credentials, you can reset it with your registered mobile number.
Once you accumulated enough points you can redeem it for online DTH or mobile recharge.You can use points for shopping or other booking services like movie ticket booking, bus ticket booking, Air and Hotel ticket booking.
Also Learn :
I have calculated points and converted with Indian rupee.I saw they convert Rs 1 = 4 points.Therefore if you need to recharge Rs. 100 balance you have to earn 400 UCO Rewardz points.  Here is simple calculation table:
Rs. 1 = 4 points
Rs. 10 = 40 points
Rs. 50 = 200 points
Rs. 100 = 400 points
Redeem UCO Rewardz Points
Okay,  let's go ahead with recharge steps.Follow the below instructions where I have shared screenshots for easy understanding.
Inside the dashboard, you can check the total points that you have earned.It is located at top of the page.See below screenshot:
Now follow yellow buttons that show recharge option and other online booking services.As we are going to recharge mobile, you need to select the recharge button.You require to submit the following details:
Mobile number that you want to recharge.
Choose your network operator from the drop down menu listed there.
Select region (Name of the State)
Amount to be recharged (Recheck amount whether you have enough points or not)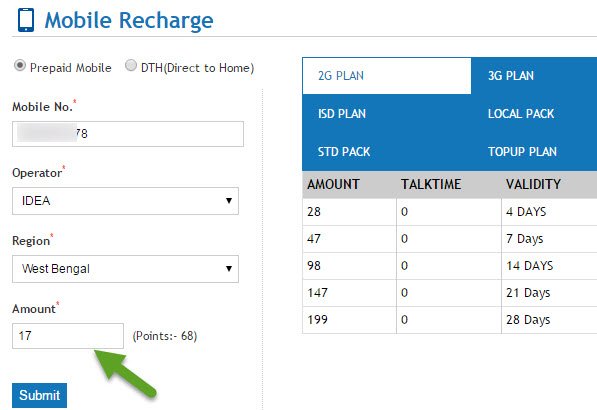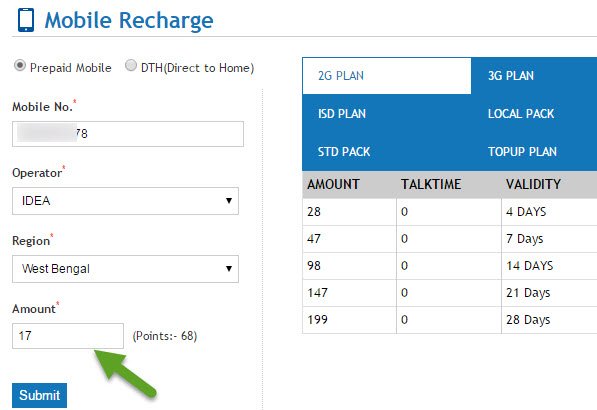 When you enter all these details click on submit button.The link action redirects to the next confirmation page.here you can see quick mobile/DTH recharge confirmation.If any error occurs go back to the previous page and edit the mistake part.
Under member details, it contains Name, Mobile number, and email ID.These fields are to be filled for the confirmation message.Enter a valid mobile number and active email ID to get confirmation notification upon successful recharge.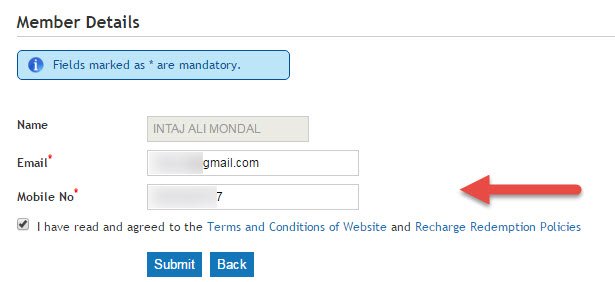 This is the last step of mobile recharge at UCO rewardz portal.Click on submit button and it will process recharge.You can find the recharge receipt when recharge is completed.It contains UCO bank reference number, recharge date status.You will receive recharge confirmation mail at your registered email address and through SMS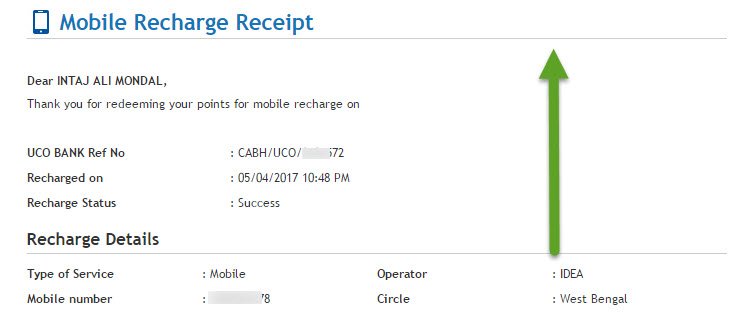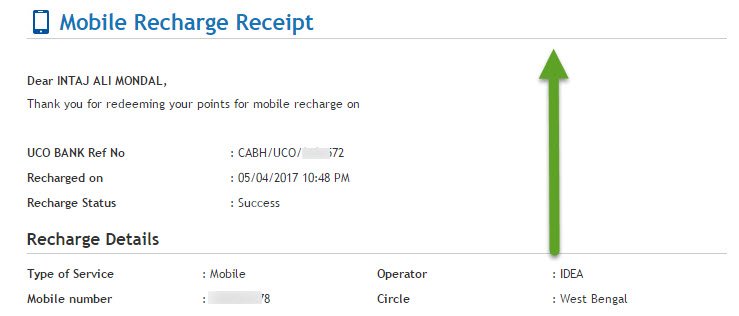 Tips: Earn additional rewardz points becoming partner of Max Get More.Besides that some general ways to earn points are debit card,ATM cash withdrawl,using net banking services.
Other helpful posts: