SBI Internet Banking facility lets you control all your banking activities.Forget those days when you need to wait in the long queue for getting simple account statement.SBI online service made transactions much easier and fast.You can transfer fund through IMPS, State Bank Group, RTGS or using NEFT.There are also several other features like e-services, e-Tax, E-Fixed deposit etc.
As soon as you receive your passbook from State Bank Of India, you are eligible for net banking.However, you need to apply for a debit card before applying for SBI online net banking application.You can get a debit card from you bank branch.Please make sure that you choose debit card option at the time account creation.
There is one more thing you need to be sure that you have successfully registered your mobile number for SMS alert and account statement notification.This is mandatory because OTP (One Time Password) is sent your registered mobile number for verification.If you get an error while getting your OTP you can reconfirm by calling SBI customer care toll free number i.e – 1800 425 3800.In some cases, debit card does not work and shows inactive.For first time user, you need to insert your SBI debit card at any local SBI ATM to make it active
Ok, I have explained some basic requirements that you need for the further registration process.If you miss anything from above section you won't be able to register successfully for State Bank Net banking facility.
Quick details that require to start net banking service
SBI Account Number
SBI Debit Card Number
Registered Mobile Number
Active Account
SBI Internet Banking Guide
Let's start and proceed to the next section for online SBI account.The first thing you have to do is to visit official SBI website.you can browse it in Google by typing any keyword like – "sbi online banking login", "sbi bank online", "onlinesbi", "sbi online account" etc.It shows you the official website with "Internet Banking" link in the first the place of the search result.See below screenshot: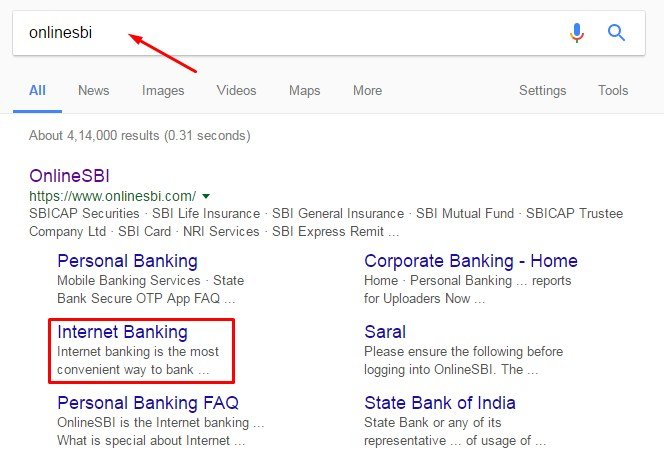 For visiting directly you can copy and paste their URL – https://www.onlinesbi.com in browser address bar.The site highly secured and don't forget to check https before URL.There are basically two types of banking you can see
Personal Banking (recommended)
Corporate Banking (It manages non-personal account)
So far, general people, they should choose personal banking option as it fits their account.If you have already created net banking account and have correct login credentials, you can log in to account dashboard.Otherwise, you can simply register for new account.

After clicking the new user registration link, you need provide bank details which I will guide you.The page requires the following information.
Account Number – Submit account number from your SBI passbook or account statement.The account number contains 11 digits numeric code. For example 85965574851
CIF Number (Customer Information File) – The CIF number can be found in your bank passbook.The most common format of CIF number is 11 digits code.It is located at the top of the first page.
Branch Code – Enter the bank branch code where you opened your account.Check out your passbook first page it contains this code.If you can't find use SBI automatic branch code finder which is located at the right side of the box.It contains 5 digits numeric code.For example 02104
Country – Choose your country from the drop-down menu (India)
Registered Mobile Number – Submit your registered mobile number for receiving OTP
Facility Required – It is very important section.This section shows you three different facilities
Full Transactions Rights – You have complete control and you can make any transaction & changes.
Limited Transaction Rights – Here you can manage your bank account but it's limited.
Viewing Rights – It lets you to only view the account.No modification or changes are allowed
Now when you submit all these details, fill the captcha carefully and click on submit button.
Now receive the OTP and verify your account.OTP verification is mandatory and you need to confirm the code with session time.If you late to submit the code your session may be timed out and you have to start again.Therefore make sure your mobile is switched on.
Earlier I mentioned that you need a debit card or ATM card before applying for SBI net banking.Here in the next page submit 16 digits card number.The format looks like 1111 2222 3333 4444.If you don't have ATM card visit to your nearest SBI branch to get one.Choose "I have my ATM card (Online registration without branch visit)" and click on submit button.


While net banking process, you will find the billing page where you need to spend 1 rupee for verification purpose.It checks whether your debit or ATM card is active or not.After successful transaction it will show your temporary net banking username.Use that username for first time login to account section.Find below quick steps to pay the amount
Enter card number
Choose card expiry date from the drop down date list
Enter card holder's name
Enter 4 digit ATM pin
Type the ReCaptcha characters
Click on proceed button
Note down the SBI temporary username and end enter new login password.Click on submit to proceed further.
You can now log in to internet banking services offered State bank Of India at their official website.Yu will also receive the username to your registered mobile number.You can change the temp username after login to the dashboard.It lets you change both username and password.When you are done click on confirm button to save the changes.
Ok, we are at the last stage of internet banking.One more step you have to finish that is your profile details.Submit profile password along with the place of birth, country, and mobile number.
You will be now redirected to main account dashboard.You can view the total balance available in your account.keep your net banking username and password safe and secure.Do not share it with anyone.
Final words For state Bank Of India Internet Banking
All SBI account holders can start net banking services at anytime from anywhere.You need correct banking details and registered mobile number.If someone helps you to get netbanking facility for you, make sure that you have changed the password later.Your awareness is your safety.