Paytm is India's most favourite mobile commerce platform.It offers the instant facility of mobile recharge and utility bill payments.People loved Paytm within few months of introducing their services.Almost 100 million users already registered there.Paytm is managed by India's reputed mobile internet company One97 Communications.If you find its investors you will find top leaders included Ant Financial (AliPay), Sapphire Venture, Silicon Valley Bank and SAIF Partners.Paytm has changed the way of recharging.
Paytm Recharge
How To Recharge Mobile Balance ?
PayTm has very simple recharge interface which anyone can use.But like Freecharge recharge Paytm does not have multi login options.You need register at Paytm with Mobile number,Email Id to access account dashboard.
When you are logged in you can see the recharge option at the top of the page.Follow the steps :
1. Enter Mobile Number (Please choose prepaid or postpaid)
2. Enter mobile network operator
3. Now submit the recharge amount (you can also Browse Plans of All Operator from right sidebar)
4. Click on "proceed to recharge button"

5. If you have any special promo code enter in the next phase of recharge.

6. At the final payment page pay the amount with Debit card/Credit card/Net banking/Atm or IMPS.
Here in screenshot you can see I have saved debit cards of SBI and UCO bank.You can also use Paytm wallet for instant recharge.
Once payment is done you will receive notification via SMS in your registered mobile number.
See some of my earlier successful order transaction.
Check the available Paytm Recharge and Bill payment services :
You can recharge both prepaid & pospaid sim.Enter 10 digits mobile number and submit recharge value.Almost all Indian network operators are supported by Paytm.If you see any operator out of this list,possible reason is the network company deny partnership with Paytm.
Mobile Recharge Services :
Airtel
Aircel
Vodafone
BSNL
Tata Docomo GSM
Idea
Indicom Walky
MTNL Delhi
Reliance CDMA
Reliance GSM
Tata Indicom
Uninor
MTS
T24
Videocon
Virgin CDMA
Virgin GSM
Tata Docomo CDMA
You don't need visit any store to recharge your monthly DTH subscription.All popular operators now let you recharge online.Below are the list of DTH providers which are supported by Paytm.
DTH Recharge Service
Dish TV
Airtel Digital TV
Sun Direct TV
Reliance Digital TV
Videocon D2H
Tata Sky
Steps to recharge DTH:
1: Log in to your Paytm Account Step
2: Select your Operator Service Step
3: Enter your Recharge or Top Up Amount Step
4: Select the payment option, make payment & get your recharge instantly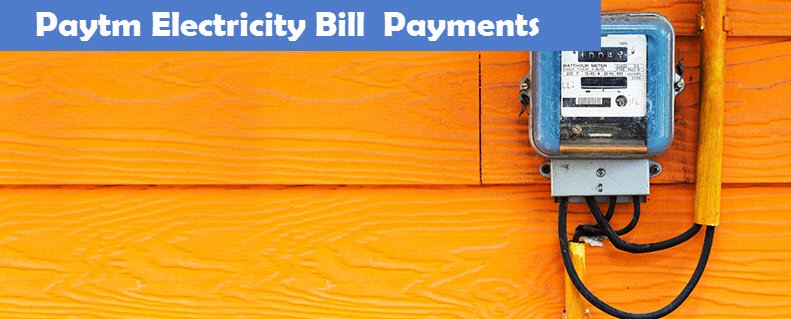 Forget those days when you need to wait in long queue to deposit Electricity bill.Not all electricity boards but some of the popular boards already joined with Paytm.You can make bill payments instant with your consumer ID.
Electricity Bill Payment (Supported Electricity Boards)
1. Ajmer Vidyut Vitran Nigam
2. BESCOM
3. BSES Rajdhani – Delhi
4. BSES Yumna – Delhi
5. Bhagalpur Electricity Distribution Company (BEDCPL)
6. CESC Limited
7. Dakshin Gujarat Vij
8. Jaipur Vidyut Vitran Nigam
9. Jodhpur Vidyut Vitran Nigam
10. MP Madhya Kshetra Vidyut Vitran – Bhopal
11. MP Poorv Kshetra Vidyut Vitaran-Jabalpur
12. Madhya Gujarat Vij
13. Muzaffarpur Vidyut Vitran Ltd
14. NOIDA POWER COMPANY LTD (NPCL)
15. North Bihar Power Distribution
16.Paschim Gujarat Vij
17. Reliance Energy – Mumbai
18. SNDL Nagpur
19. South Bihar Power Distribution
20. TATA POWER-DDL
21. Torrent Power Limited
22. Uttar Gujarat Vij
23. Uttar Haryana Bijli Vitran Nigam (UHBVN)
24. Uttar Pradesh Power Corporation Limited

Data Card Recharge : (Supported operators)
BSNL Data Card, Reliance Netconnect, MTNL Data Card, Tata Photon and MTS.Paytm also accepts bill payment for Bill payments for Reliance NetConnect, Tata Photon+, Tata Photon Whiz.
Steps for data card recharge :
Login to Paytm dashboard & select Data card service
Choose postpaid or prepaid connection
Enter Prepaid/postpaid Data Card Number
Select operator from drop down menu
Enter recharge amount and pay

Landline bill payment : (supported Landline)
Airtel Landline,Connect Broadband,MTNL Delhi,MTS Landline and Reliance Landline.
Are you using these above landline connections ? well now pay your landline bill online.
Choose landline operator
Enter 
Submit due amount to pay bill.
Gas Bill Payment : (Supported companies)
Adani Gas Limited,Mahanagar Gas- Mumbai and Siti Energy Ltd
Select Gas operator
Enter consumer number and proceed to pay bill
Note : Your service provider will take two working days to consider bill paid in their accounts.
Pay Education Fees : (Supported Institutes)
St. Francis Xavier School, CRM National, Delhi Public School, Mayo International, Mother's Pride, Ramagya School.Colleges like IILM Graduate School of Management,Dr. KN Modi University, Indian Academy, RK University ,JK Business School.
Steps to pay education fees :
Step 1: Login at Paytm.com and Go to Education Service
Step 2: Select Institute and Location
Step 3: Fill in the enrollment number and pay fees!
Financial Service : (Supported companies)
ICICI Prudential Life Insurance
IndiaFirst Life Insurance
Reliance General Insurance
Reliance General Insurance
Religare Health Insurance
SBI General Insurance Limited
TATA AIA Life Insurance
Steps to pay insurance amount :
1. Login to Paytm
2. Select Financial services
3. Choose Insurance company and submit policy number
4. Ready to pay.
Metro Card Recharge : (Supported Metros)
Delhi Metro
Mumbai Metro
How to recharge Metro Card ?
Step 1: Login at Paytm.com
Step 2: Enter the unique number provided at the back of your Metro Card
Step 3: After this you visit the AVM (Add Value Machine) at the nearest metro station
Step 4: Show your metro card on AVM & press add value button, balance would be instantly added to the Metro card.
Water Bill Payments : (Supported Water Boards)
Aurangabad City Water Utility Company Ltd
Delhi Jal Board
Steps To Pay water Bill :
1. Login and go to water section
2. Select Water board and consumer number
3. Pay the bill
Hotel Booking with Paytm :
You can book hotels for top destinations in India.Goa(1016 Hotels), Mumbai (838 Hotels),Delhi(1890 Hotels),Bangalore(1171 Hotels),Hyderabad(671 Hotels),Chennai(636 Hotels),Pune (503 Hotels)and Simla (174 Hotels).
Steps to search hotels :
1. Click on hotel menu
2. Enter City, Locality Or Hotel Name
3. Submit Check in and Check out date to see available hotels.
4. Enter No. Of Adults and No. Of Children for each room.
5. Click on search hotel tab to get details.
Book Bus Tickets :
Search buses and book tickets at Paytm.
Steps To Book Bus Tickets :
1. Land to Bus ticket menu page
2. Enter origin and destination
3. Select journey date and click on search button
Some of the top routes Buses :
Bangalore to Hyderabad
Hyderabad to Bangalore
Bangalore to Chennai
Chennai to Bangalore
Hyderabad to Vijayawada
Indore to Bhopal
Bhopal to Indore
Vijayawada to Hyderabad
Hyderabad to Guntur
Chennai to Coimbatore
Amusement Parks Ticket Booking :
Imagica Theme Park (Mumbai)
Imagica Water Park (Mumbai)
The Fun N Food Village – Nagpur
Dream World (Water Park) – Lucknow
Worlds Of Wonder – Amusement Park
Kufri Fun Campus – Shimla
MGM Dizzee World (Water Park)
Oysters Beach Water Park – Gurgaon
Fun Town Theme Park – Yazoo Park – Mumbai
Aquatica Water Park And Resort – Kolkata
GRS Fantasy Park (Water Park) – Mysuru
MGM Dizzee World – Chennai
Splashdown Waterpark – Goa
Anand Amusement Park – Durgapur
Fun N Food Village (Water Park)
Just Chill & Fun Park
Worlds Of Wonder (Water Park) – Noida
Crystal World (Water Park) – Haridwar
Delhi Rides (Delhi Eye) – Delhi
Fun Town (Water Park) – Bhaduri
Movies Ticket Booking :
You can watch your favourite movies in your city.Buy ticket online hassle free.
How to book movie tickets ?
First login to dashboard & jump to "Movies"
Now select your city & cinema hall
Take a look of recent movies and upcoming movies
Click on particular movie and availbe seats.
Choose your time slot – Book now
These are the cities supported by Paytm – Search cinema hall in your city now.
Ahmedabad
Ajmer
Allahabad
Ambala
Amritsar
Anand
Aurangabad
Balaghat
Belagavi
Bengaluru
Bharuch
Bhatinda
Bhilai
Bhilwara
Bhiwadi
Bhopal
Bhubaneswar
Bilaspur

Bokaro
Burdwan
Chandigarh
Chennai
Coimbatore
Darjeeling
Dehradun
Delhi
Delhi/NCR
Dhanbad
Durgapur
Faridabad
Gandhidham
Gandhinagar
Goa
Greater Noida
Gurgaon
Guwahati

Gwalior
Haridwar
Hubli
Hyderabad
Indore
Jaipur
Jalandhar
Jalgaon
Jammu
Jodhpur
Jorhat
Kalaburagi
Kalyan
Kanpur
Kochi
Kolhapur
Kolkata
Kota
Kurnool

Latur
Liluah
Lucknow
Ludhiana
Madurai
Malegaon
Mangalore
Manipal
Meerut
Mohali
Moradabad
Mumbai
Mysuru
Nagpur
Nanded
Nashik
Navi Mumbai
Neemuch
Panchkula

Panipat
Pathankot
Patna
Pune
Raipur
Rajkot
Rohtak
Rudrapur
Sikar
Siliguri
Surat
Thane
Thrissur
Udaipur
Ujjain
Vadodara
Vijayawada
Vizag
Vizianagaram
Paytm Headquarters :
B-121, Sector 5, Noida – 201 301, India
Phone: +91-120-4770770 | Fax: +91-120-4770771 | Email: info@one97.com
Regional Offices :
Bangalore
144/533, 2nd floor, 22nd main, 150 Feet Ring Road, HSR Layout
1st Sector (AGARA), Bangalore – 560102 | Phone: +91 80 41237197
Chennai
II Floor, Balammal Building, No 33, Burkit Road, T Nagar,
Chennai – 600 017 | Phone: +91 44 24350197
Mumbai
IV Floor, Enterprise Centre, Domestic Airport, Next to Orchid,
Hotel Vile Parle East, Mumbai – 400 099 | Phone: +91 22 26133197
Kolkata
GN 31, 4th Floor, Benfish Tower, Salt Lake, Sector 5,
Kolkata – 700 091 | Phone: +91 33 40005197
Toronto
36 Watercress Ct, Kitchener N2E 3S8, Ontario – 519,
Canada | Phone: +91 33 40005197