Cuelinks WordPress Plugin – Cuelinks is one of the best content monetization tool available on the internet.In my previous post, I wrote regarding Cuelinks Chrome extension which is easy to use to know merchant payouts rate.The Cuelinks monetization program converts relevant keywords & links in your content into affiliate links automatically.
Join Cuelinks today to monetize your valuable content
Cuelinks offers very simple javascript code to insert into your website.You can find the code from installation menu located at the top bar.The java code should be inserted before the </BODY> tag.Once you implement code it starts converting your normal link to affiliate links.
Although the basic installation process works fine but still some users may find difficulty while using javascript code.For that reason, Cuelinks has released their first WordPress plugin for all WordPress users.It is now available in WordPress plugin directory.You can download the plugin from directly WP plugin page or from your WP account dashboard.
How To Install Cuelinks Plugin ?
As I have mentioned above you can use two methods 1.Via FTP 2.From WordPress dashboard.
Via FTP Uploads :
Click on download button to download latest version
Upload it to your WordPress plugin folder
Now activate from WordPress account dashboard.
Via WP Account Dashboard :
Login to WordPress account
Go to "Plugins" and click on add new
Type Cuelinks in search box
Install & Activate the plugin

How To Setup Plugin ?
You can see Cuelinks setting option in left side panel.Click on setting to make it active.You need to submit Cuelinks publisher ID in the blank box.I have submitted my ID and you can see its current status is active.The plugin works fine as soon as you submit publisher ID.
Follow the below steps to look up your unique Cuelinks publisher Id.
Login to Cuelinks dashboard
Click on Account setting from right side drop down menu
Copy the Publisher ID (Generally contains 10 digit number)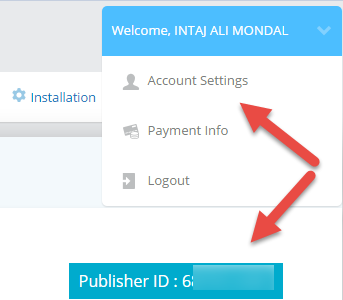 You can now check your links and keywords are converted to affiliate links.Therefore when your visitors click on a link and make a successful transaction,you will receive the affiliate commission from them.However, not all the links generate commission as they should be associated with Cuelinks.You can check supported merchant list from their dashboard or use Google chrome extension.
Hope this article helps you to set up Cuelinks Plugin.Share your feedback and experience with Cuelinks at the below comment section.