I have earlier posted regarding how to increase eBay selling limits.I followed same steps and requested to increase selling limits.I got reply from them after 3 days.I will share the exact reply that I received from eBay selling team.
Before that let me tell you about my listing status.I listed 3 items and all items sold within a week.The total amount exceeded 25,000 and I again wanted to list more.But I received the message "Your maximum listing limit exceeded,you can list rs.60 more".
What I did ?
I sent an email to eBay support team – "Hello team, This month so far I have listed 3 items but now I got message listing amount exceeded.I want to list more items. Kindly increase my listing limits so that I can sell at Ebay platform. Thank you. "
Here Is The Reply :
"Thank you for writing to eBay. My name is Siddharth and I am pleased to address your concern regarding your account's limits.
Congratulations! Basis your great seller performance, I have increased your selling limits. You can now list up to items 75and up to 50,000 INR < Fifty Thousand> a month, whichever comes first. Please note that this limit includes multi-quantity listings as well.
We wish you continue delivering this great experience to our buyers and keep growing your business on eBay.
Happy selling!J
Also check out below link seller service provider to improve listing quantity.
http://sellercentre.ebay.in/sellerserviceproviders
We appreciate your willingness in understanding our policies. Please do not hesitate to ask any further queries with regards to this concern."
Regards,
Siddharth
eBay India Trust & Safety Team.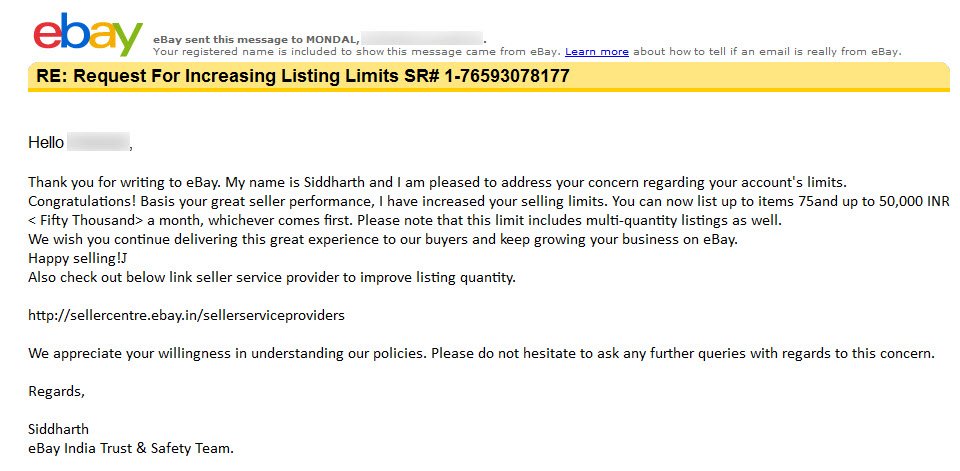 So far I have successfully increased selling limits ,let me know what your experience with eBay team.