YouTube is the number one video uploading and sharing platform.People upload videos for fun and entertainment.You can also find tutorial videos which help you to learn something.Each time you upload video,you need to select a thumbnail.
What is YouTube thumbnail ?
Well,before going to step by step process for the custom thumbnail,you need to know about the thumbnail.Thumbnail basically a picture which attracts people to watch your video.The thumbnail is just like a sticker,you can understand the video content watching thumbnail.Therefore, if you really want to rank your video,you should create an appealing thumbnail picture.
Recommended thumbnail size :
Google cleared about thumb size.The custom thumbnail should always be large as it is used to display the preview image in the embedded player.Google recommends a resolution of 1280×720 (with the minimum width of 640 pixels).Upload image thumbnail of .JPG, .GIF, .BMP, or .PNG format.
How to enable custom thumbnail ?
You can't use custom image thumbnail without verifying your account.Account verification enables custom image adding feature to your video.Therefore before uploading videos make sure that you have verified your account.It also helps for keeping account safe and active.
What is default thumbnail ?
When you upload a video you can see thumbnail generated automatically.But these images are not so impressive,it just a part of your video.(A Video is made by set of serial pictures.)
How to verify the account ?
1. Login to YouTube account dashboard.
2. Choose desired channel from the dropdown list.
3. Jump to Channel option (see left side bar)

4. Now you can see account status with verify option
5. Click on verify tab for next step.
6. Select your country & choose any delivery method for the verification code.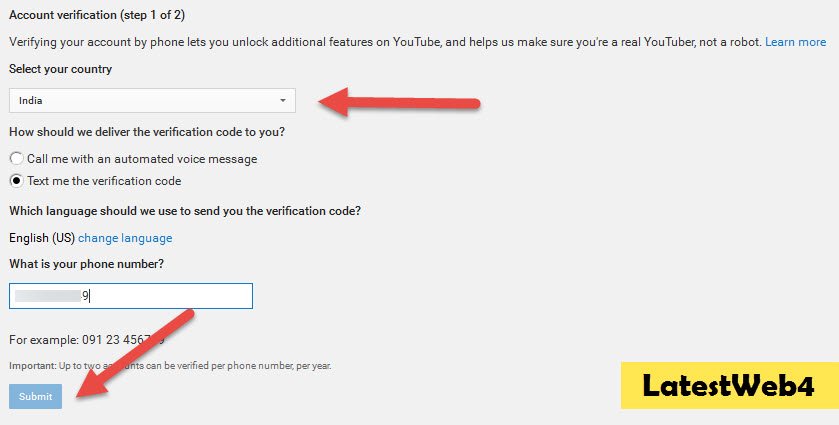 7. Enter your phone number and wait for code
8. Submit 6 digits verification code to verify account
Now next time when you upload videos you can use any custom picture for your video thumbnail.
Also Read : How to download youtube video without software  | Buffer Youtube Video Fast