Upholstery Fabric – Upholstery material for the sofa, armchairs and chairs.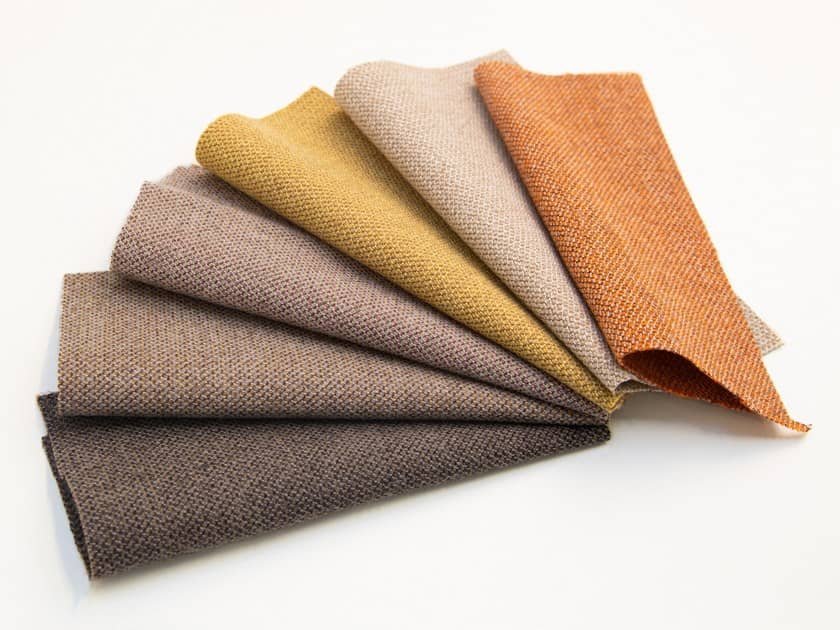 Most buyers perceive furniture upholstery as a decorative element, picking it up to the interior of the living room, forgetting about practicality. "Oh, what pretty roses!" – says the customer and pays money, not thinking that after a week these most beautiful roses will become a victim of the claws of a cat or a dog, and on a light upholstery there will forever be a stain from cherry juice accidentally spilled by children.
The properties of the upholstery material ultimately affect how long a sofa or chair will last: whether it will be easy to clean, how well the upholstery material resists moisture and dirt, how resistant it is to fading and abrasion – all these issues should be clarified before How do you get your wallet.
You may like : How to choose Upholstery Material for chair
Types of upholstery fabric
1. Jacquard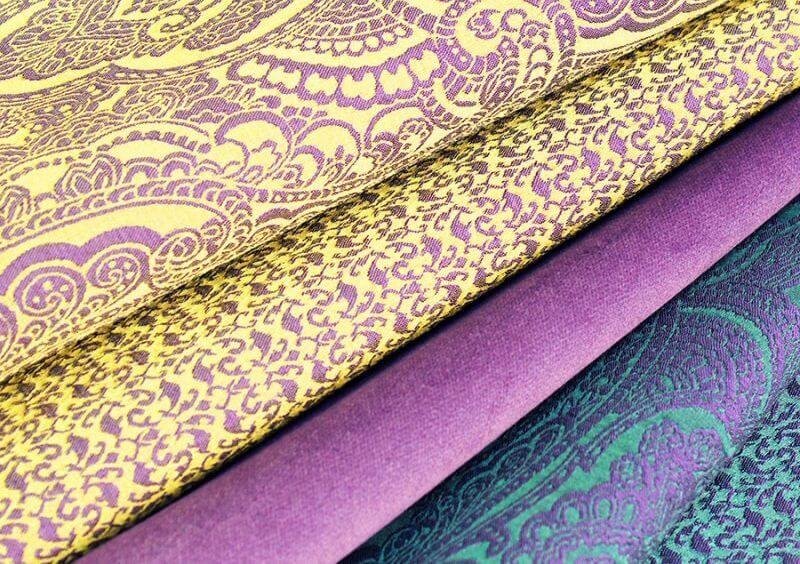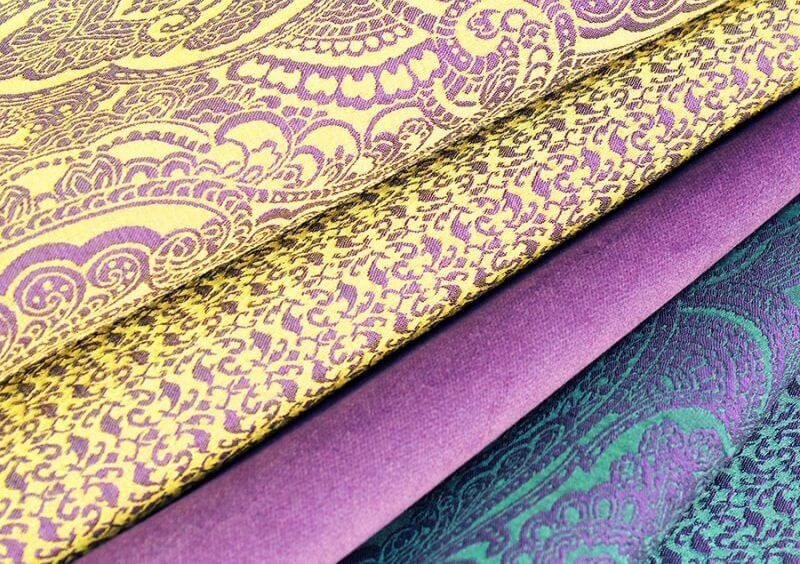 This is the most common upholstery fabric material for upholstered furniture. Jacquard fabric is made from a mixture of cotton and synthetic fibres. It is very thick and holds its shape well. Jacquard fabrics are distinguished by a woven relief pattern, most often floral or ornamental. Jacquard manufacturing technology allows you to create detailed patterns. The cost of jacquard depends on the composition and thickness of the thread.
Caring for jacquard upholstery is easy: small dirt is washed off with soapy water, dust is removed with a vacuum cleaner. For heavy stains – not too aggressive substances for dry cleaning upholstered furniture.
2. Scotchguard
This is the same jacquard that has been treated with a special water-repellent compound. Impregnation protects the material not only from moisture, but also from dirt, fading, and even from the claws of pets: scotchguard belongs to the category of anti-vandal fabrics. It is as dense as jacquard, great for all types of furniture. Scotchguard is especially good for fabric frameless furniture.
3. Thermo jacquard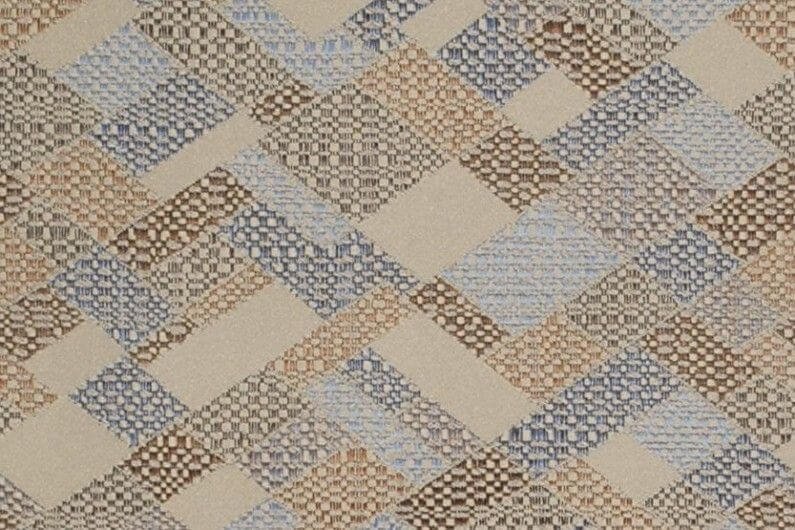 A relatively new material, which is an ordinary undyed jacquard with a pattern applied to it. The image is applied by thermal printing: the ink penetrates deeply into the fibers, holds well, does not fade or fade. Other characteristics are the same as those of ordinary jacquard: durable, dense and practical material.
4. Tapestry
And this is also jacquard, more precisely, one of its varieties. Tapestry is woven from thicker fibers, most often from 100% cotton or with a slight addition of synthetics. The weaving of the threads in the tapestry is especially dense, and almost always the tapestry has a complex pattern, reminiscent of a painting. The fabric holds its shape perfectly, but due to the high content of natural fibers, it may fade a little over time. Tapestry is good for upholstery of small sofas, couches, chaise longues. A large sofa covered with a tapestry can look too gaudy.
5. Gunny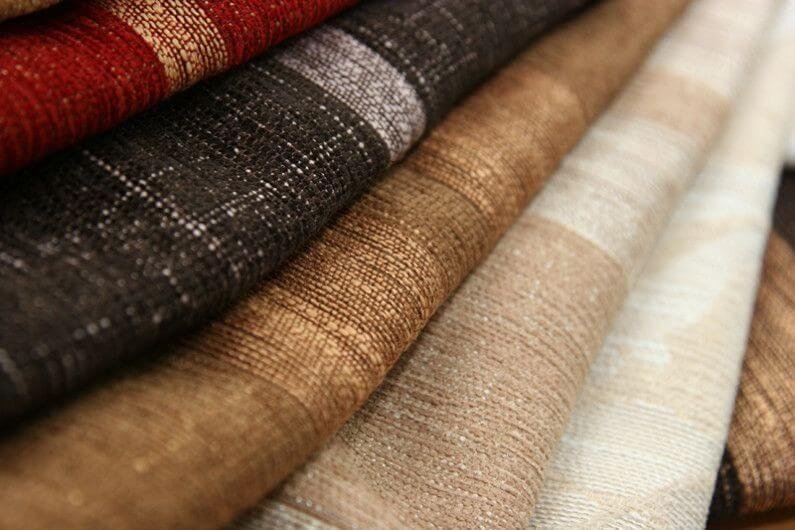 Due to the checkerboard weave of threads, the matting is very similar in structure to ordinary burlap. Basically, matting is woven from natural materials: linen, cotton, silk, wool, but acrylic or polyester threads are added to the fabric for strength.
Rogzhka is durable, textured and multi-colored. It is easy to care for: light dirt can be removed with ordinary upholstery cleaners (but never use bleach). The vacuum cleaner does a great job of removing dust. But matting is not very friendly with pets: their claws even accidentally cling well to large weaving and pull out the threads. By the way, the author of this article has a sofa covered with matting and a cat at home. And the sofa is still intact.
6. Chenille
A blended Upholstery Fabric consisting of cotton and synthetic threads, which are woven in a special way: the threads are first twisted and then intertwined longitudinally and crosswise. The material is very strong and dense. The peculiarity of chenille is that one of the synthetic threads is "shaggy", and as a result, the fabric gets a short pile. Thanks to its hairiness, chenille can be put in the same category as the next velor and flock on our list, but chenille is much cheaper than its shaggy counterparts.
7. Velor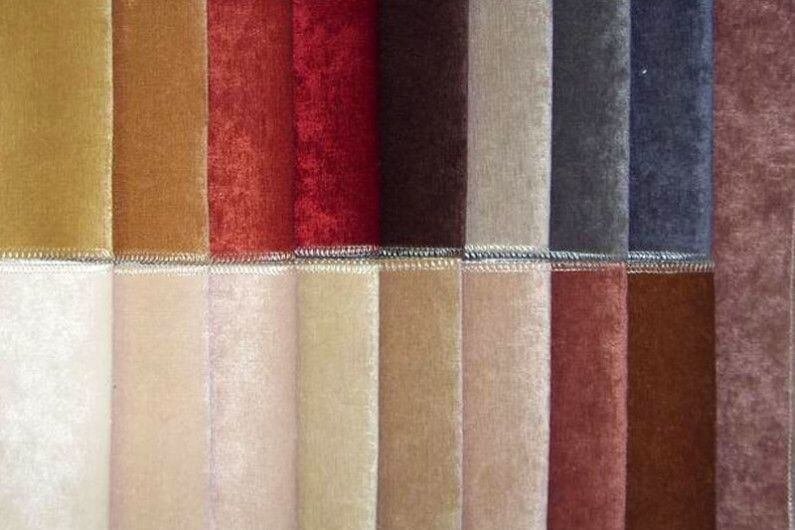 Pile fabric, which is obtained by a complex interweaving of several threads – warp and pile. The qualities and properties of velor depend on the density of the weave: velor can be both dense and loose. The material is soft to the touch, non-toxic and safe.
As an upholstery for a sofa in the living room, velor is suitable if there are no small children and pets in the house: it is highly susceptible to abrasion and easily gets dirty. But if you still opted for velor upholstery, be prepared for the fact that after 3-5 years you will have to change it.
8. Flock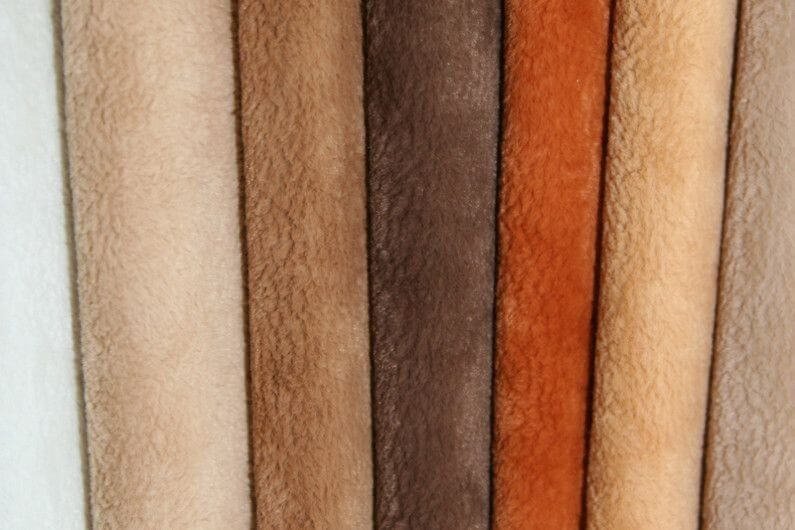 Flock is a fabric with pile, which is considered one of the varieties of velor. But the flock manufacturing technology is completely different. It is a more synthetic material with a 1:3 cotton to polyester ratio. Small nylon fibers are applied to a thin fabric base with an adhesive layer under the action of an electrostatic field. Thanks to electrostatics, the pile falls on the base strictly vertically. The output is a soft, pleasant to the touch fabric with a perfectly even and thick pile. Flock is durable, waterproof, repels dirt, easy to clean. It, like scotchgrad, belongs to the category of "anti-claw" fabrics – the claws of pets cannot damage it.
9. Velvet
Another fleecy fabric with characteristic scars. Depending on the width of the scar between the pile strips, there are micro-velveteen, corduroy with a wide or medium scar. Velvet can be either 100% cotton or with the addition of synthetics (elastane or polyester).
The fabric is capricious, requiring careful care: it cannot be strongly rubbed, wrinkled and squeezed. Dirty stains should only be removed with mild stain removers for natural fabrics. But the capriciousness of velveteen is more than justified by its beauty. The service life of velvet upholstery is about 5-7 years. Velvet is very "bald" in places of constant contact.
10. Faux suede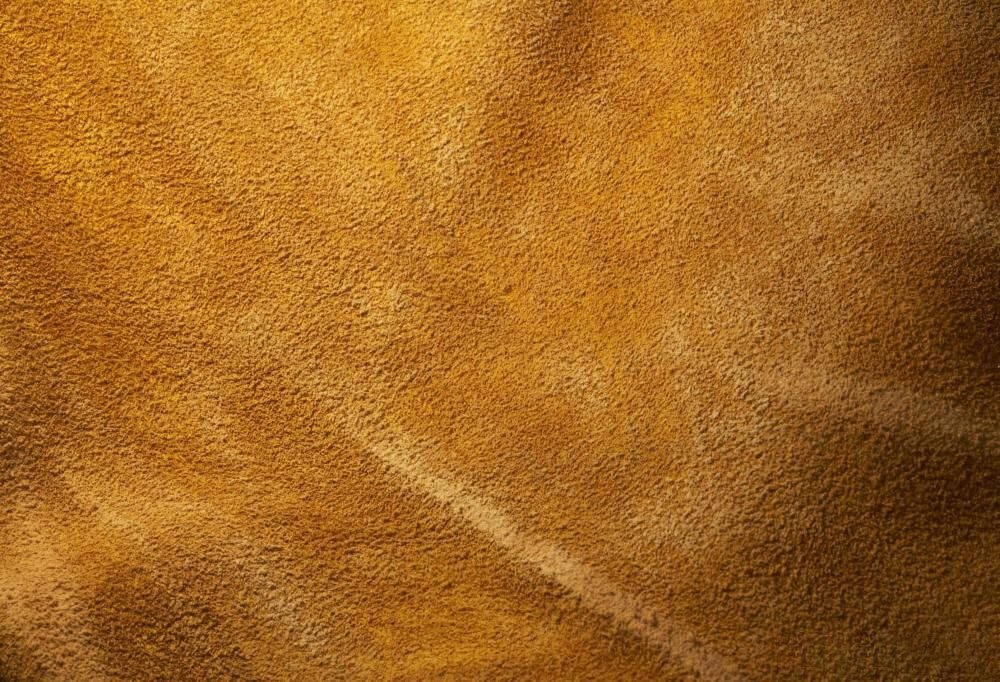 Faux suede – a mix of polyester and cotton. Often this union is treated with Teflon liquid, which significantly increases strength and wear resistance. Artificial suede has many advantages: it is difficult to distinguish it from the real one, it is not afraid of scratches and creases, it does not fade, does not fade and does not rub. There is nothing to say about the aesthetic side.
There are also disadvantages: it is not suitable for apartments and houses where small children or animals live, it still requires careful handling. Wet cleaning for artificial suede is contraindicated. Only dry delicate cleaning.
11. Faux Fur
In terms of structure, artificial fur resembles the natural skin of an animal: it consists of a base (soil) and pile. The pile itself, in turn, is made from nylon, viscose or wool fibers, and to create a better material, several types of threads with similar characteristics are used.
Faux fur is an affordable, eco-friendly and easy-care material with a wide variety of colors. It can also be decorated with patterns, geometric patterns, other fabrics and even rhinestones. Cons: fragility and rapid contamination of synthetic fibers that actively attract dust.
12. Genuine leather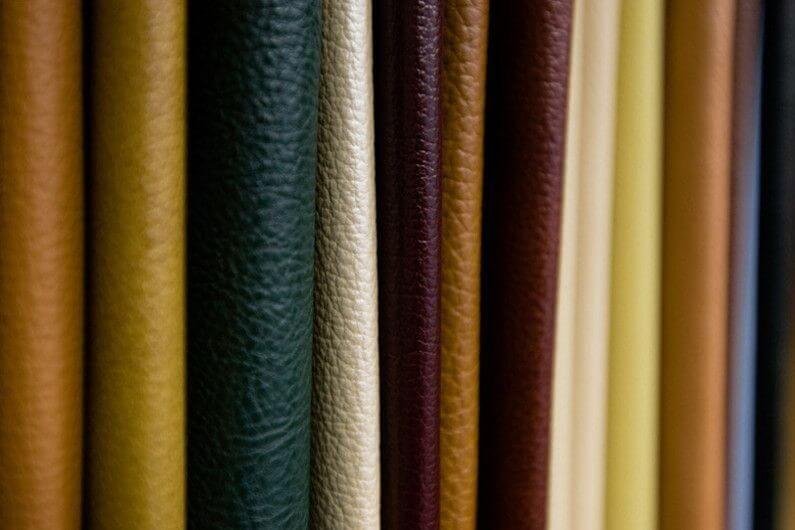 Luxury upholstery fabric. In furniture production, upholstery is made of pigskin, less often goat or horse. There are two types of processing of this material: aniline method and semi-aniline (or complex). Aniline leather is soft and looks very beautiful, but at the same time it is very capricious: it is afraid of moisture, dirt and mechanical damage. Complexly treated leather is not as attractive, but it is tougher, thicker, more durable and better resistant to all influences.
The lifespan of leather is practically unlimited, and depends only on how well you take care of it. A special plus is that aged skin does not look worse. On the contrary, over time it acquires a special charm.
13. Faux leather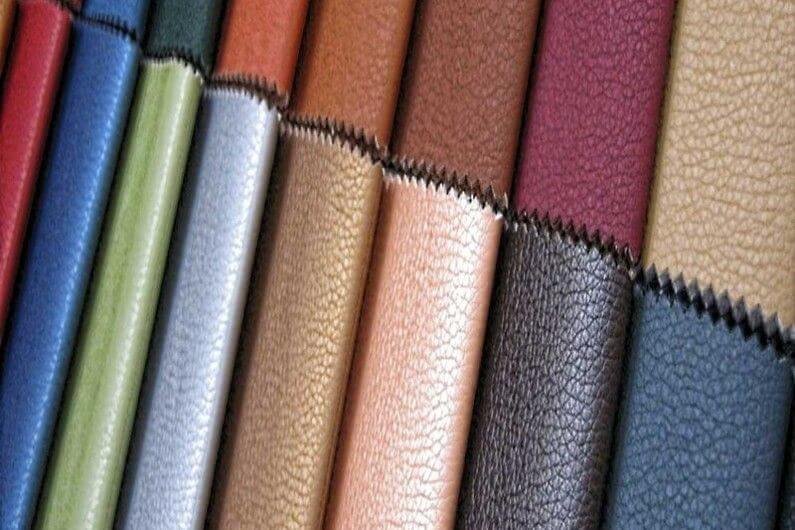 This is a fabric on which an elastic film with a texture and pattern "under the skin" is applied. As a basis natural or synthetic fabrics, fabrics with an elastic basis are used. Faux leather perfectly holds its shape, has water-repellent and dirt-repellent properties. It is not very difficult to care for her: she is washed with soapy water or products that do not contain too aggressive components.
Among the types of artificial leather for upholstery of upholstered furniture, arpatek, microfiber and artificial suede are used.
Arpatek. Looks presentable, very similar to genuine leather. It is soft and elastic material. Durable and unpretentious in care, does not fade and well resists mechanical damage, including the claws of pets
Microfiber is a material that resembles natural suede with its characteristics and appearance. Due to the dense weave of the threads and the additionally applied Teflon layer, the microfiber is very durable and belongs to the "anti-claw" category.
Faux suede is a durable fabric base with polyester pile. Teflon impregnation gives faux suede durability and resistance to dirt
How to choose upholstery material: a short checklist
So, before you buy upholstery material for upholstered furniture, ask yourself a few questions:
Are you ready to sacrifice practicality for the beauty of upholstery and make excessive efforts to care for it?
Do you have animals at home? If yes, pay attention to the materials of the "anti-claw" category: scotchguard, flock, arpatek.
Will you sleep on a new sofa every day? If yes, give preference to upholstery with a high content of synthetics: it is stronger.
Buying a sofa or armchairs for the nursery? Remember that young children are best contacted with natural materials. Choose matting or tapestry.
Will you constantly use the sofa or chair as a place to relax? If so, choose upholstery that is easy to care for.
We hope our article will help you find the same upholstery fabric for your sofa, armchair or chair that will appeal to all family members.