Tesla Solar Panels everything you need to know.
Tesla CEO Elon Musk, during the presentation of a new product – solar panels for the roof, announced the start of sales of an innovative brainchild closer to mid-2017. The product is known as the "solar roof" and was developed by SolarCity, co-owned by Mr. Elon. In November 2016, Tesla motors acquired the company for $2.1 billion, in other words, solar roof only changed legal ownership, not actual ownership. In anticipation of the long-awaited launch of the product on the market, we will tell you what is known about the solar roof today.
Types of Tesla tiles
What is a Tesla Solar Roof? 
These are well-known solar batteries (converters of solar energy into other types of energy), but simultaneously performing the functions of a protective structure – roofing material. According to the presentation, four types of glass panels are known, designed for different preferences of developers and architects. Italian-style ceramic tiles, slate, textured or smooth tiles will be offered. The entire collection is shown below: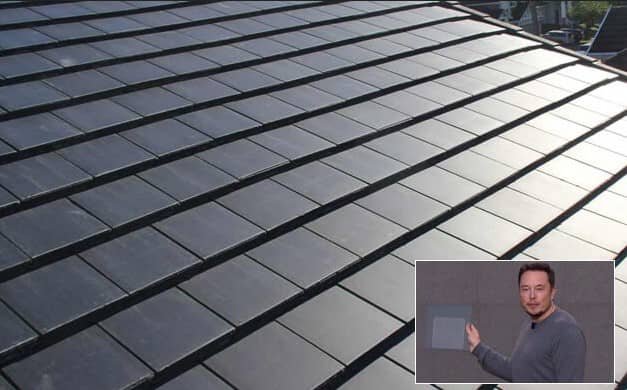 Probably, the range of colors and models will be replenished with the growing popularity of roofing material.
What are Tesla Solar roof panels made of?
Each tile consists of three layers:
The top layer is heavy-duty and shock-resistant tempered glass;
Highly efficient solar battery;
And finally, a layer with a colored film or texture that imitates popular types of roofing: ceramics, slate or shingles.
In a tweet, Tesla posted a video of mechanical testing of its product against conventional roofing materials.
Most likely, such strength will not be needed during actual operation, but the properties of glass are certainly impressive.
In his microblog, Musk emphasized that, if necessary, heating elements can be turned on on the surface of the glass panels to clear them of snow.
He added that such a process would not be energy intensive, but would greatly increase the efficiency of solar panels in the winter.
Estimated cost of a solar roof
Just the other day, Ilan Musk made a shocking statement for many developers: a solar roof will cost less than traditional materials. Is it so? Perhaps the batteries themselves will be slightly lower than the price, for example, of ceramic tiles. But do not forget about additional equipment, without which Tesla products will not function properly, namely, to generate solar energy and convert it into electrical energy. You can interpret what the founder of the company said as: the cost of the new technology will be lower than the usual roofing material + solar panels, which completely changes the picture.
At least for the glass roof, you will need to buy a 2nd generation Powerwall branded battery. Its cost is about $ 5.5 thousand. A little about its technical characteristics:
Dimensions – 1150 × 755 × 155 mm;
Weight – 122 kg;
Temperature range for device operation – from −20°С to +50°С;
Power consumption – 14 kWh;
Continuous power – 5 kW, max. – 7 kW;
Warranty period – 10 years.
Powerwall 2 also includes a voltage inverter. Connecting Tesla panels is no different from a traditional solar panel circuit. The DC voltage from the roof goes to the Powerwall battery, which sends it to an inverter to convert it to AC.
Let's try to calculate the estimated cost of Tesla equipment for a house with a roof area of ​​200 m2. If solar roofing is cheaper than conventional material (such as ceramic tiles), then the price of 1 m2 should not exceed $35. Don't forget to factor in the cost of the battery: 5500 / 200 = $27.5. Total 35 + 27.5 = $62.5, multiply the result by the total area: 62.5 * 200 = $12.5 thousand. That is how much you will need to pay for modern technologies for a medium-sized private house. Of course, the calculations are indicative, but do not forget about the additional costs of installation and additional elements of an energy-efficient system.
A few more numbers. According to greentechmedia.com, the Tesla system will generate about 9,000 kWh per year (you can calculate the savings yourself). The portal also refers to the insufficient number of professional installers, which will entail high costs for the initial installation and configuration of equipment. Considering all factors, the price of such a high-tech roof will be in the range of $33,000 to $37,000 for the same 200 sq.m.
Photos of houses with Tesla Solar Panels
The solar panels will be manufactured at a plant in Buffalo, New York. This is what the house looks like with Tuscan Glass Tile panels just installed.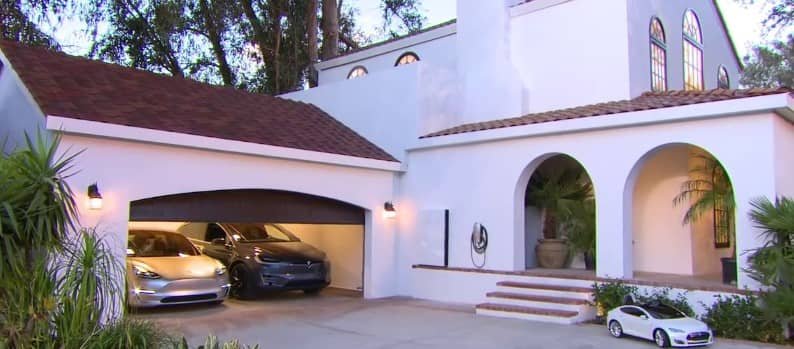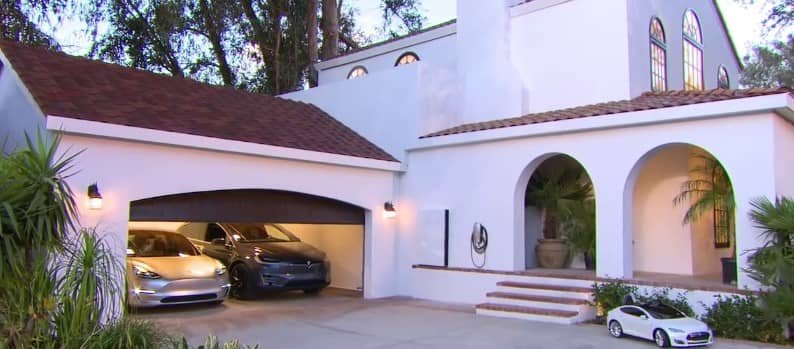 Panels from the side of the courtyard or street will look opaque. It will be possible to discern the glass origin of the material only in sunny time, looking through the building from top to bottom. Pictures of Slate Glass Tile:
Unlike other types of solar roof, the Tesla Solar Panels sleek panels are specially designed to allow everyone to see the solar panels from different angles. The purpose of Tesla's sleek glass tile is to offer a "more modern look," Elon said at the presentation.
Tesla solar tiles will be available in Europe ?
Tesla's solar roof tiles have been around for a few years now, but until now, they've only been available to customers in the US. In his recent tweets , the head of the company, Elon Musk, confirmed that before the end of 2021, such panels will appear in Canada, and, with luck, also in Europe.
We are talking about very nice dark gray tiles that can be used to cover the very roofs of houses of a wide variety of designs. Some of these tiles are "empty", that is, they do not contain photocells. Others are capable of generating electricity.
It is assumed that Tesla will find local partners for the design and installation of roofing for each specific roof. Recently, a Tesla partner in the US released a video demonstrating the Tesla roof's ability to self-clear snow, so other Nordic countries need not be afraid that their solar roof will not work in winter.
It makes sense to install solar tiles only when paired with home energy storage devices, which are produced by the same Tesla. Then, with a sufficient roof area, you can count on it to cover all household electricity needs, and also allow you to charge an electric car parked in the garage for free.
Recall that for every square meter of the earth's surface in sunny weather, there is about one kilowatt of energy. The efficiency of modern solar cells is slightly more than 20%, that is, with a sunlit surface of the roof of a house measuring 6 by 6 meters on a fine afternoon, you can get up to 7 kilowatts of electricity, the excess of which will be accumulated in a home storage battery. In winter, the figures, of course, will be more modest.