Housing and communal services is an extremely conservative sphere of human life. Some innovations take root here extremely hard. But even here artificial intelligence (AI) has come. What kind of "beast" is this, and how can he help us in everyday life? Let's try to figure it out.
Scope of AI Homes and communal services
The simplest and most understandable direction that many have heard of is the "smart home". In most cases, the layman imagines a kind of suburban building where the "nerd" programmer lives, turns on the light with a clap of his hands, and the gates in the garage open automatically when the owner's car enters the territory. In an exaggerated format, this is true.
However, the fundamental tasks of artificial intelligence in the "smart home" are not only and not just these cool chips, but fire, physical and environmental safety, as well as reducing energy costs. By the way, we can talk not only about suburban, but also multi-apartment, we can even talk about a group of houses, for example, a residential courtyard.
And what is the effect of the introduction of AI?
From this perspective, it makes sense to single out the following areas for the use of artificial intelligence with a description of the possible effects:
Lighting control
As practice shows, the use of automation in this matter allows you to save up to 30-50% of electrical energy.
And we are talking not only about apartments, as such, but, for example, street lighting. At the same time, the solution itself from a technical point of view does not look any complicated: a photoresistor and software.
Neural networks can adjust lighting depending on a lot of incoming data, the number of people on the street, the time of year, lighting, and so on.
Why is it not implemented everywhere? – Big question. Apparently, electricity suppliers are extremely uninterested in this, for them AI in housing and communal services is like a nail in a well-known place.
More from Artificial Intelligence :
Automation of taking meter readings
You won't surprise anyone with devices with modems. There is a much more interesting direction here, and this is not only reading recognition, which is also quite interesting.
The use of intelligent neural networks allows not only to control the timeliness of payments, billing and other routine processes, but also to identify those who are trying to cheat using various counter stop technologies. And the collection of payment for services is projected to increase by 30% or more.
Control of the filling of garbage containers.
There can be two main directions here.
Firstly, it is a call for transport for export as needed. It is clear that this seriously reduces the costs of management companies in this direction, according to the leaders of LCD companies themselves, up to 20%.
Secondly, control over garbage separation. With the help of neural networks, it is possible to identify recyclable materials from photos and videos: plastic, glass, paper and metal.
In the future, neural networks will learn to recognize new types of garbage and sort it.
True, the general culture of the residents themselves is important here, since those contaminated with food waste make this task very difficult.
SMART ECO BOX
System for automatic sorting of household waste based on artificial intelligence
Goal: Combine the power of artificial intelligence and robotics to create an automatic sorting system for household waste.
Why is it important now:
To date, it is possible to teach neural networks to classify garbage from photos and videos and classify what kind of garbage is in the heap (container). Then, with the help of robots and drones, sort it or partially process it.
Ideally, sorting and partial processing should take place at the apartment building in a household container, and the sorted waste delivered to factories for further use.
Format : The format of the mini sorter is supposed to be in the "container in the yard" format in which sorting, crushing and pressing will take place.
Monitoring the state of engineering systems and equipment.
Here we can talk about the prevention of failure, as well as such a direction as overheating. For a tenant to open the window when it's hot is not a problem. But from the point of view of payment, this is a waste of energy and, of course, unnecessary, unreasonable financial costs.
AI-based systems can automatically monitor and adjust thousands of complex system parameters to achieve trouble-free operation.
How it works:
Before any accident, there are preliminary signals that can be obtained from sensors. Artificial intelligence technologies can predict an emergency situation by deviation from the norm not of one sensor, but by a change in the operation of a part or an entire system.
Ordinary video cameras can even be used to monitor the status of equipment, processing images from which, for example, you can determine a fire in a room long before the sensors that respond to smoke are triggered.
One of the ready-made solutions is video fire control in rooms at the early stages of fire.
Fire control
The solution allows you to detect a fire in a room before the appearance of smoke, and can also be used in large warehouses where every second is precious, and smoke detectors do not work quickly due to the large area.
Smart city lighting control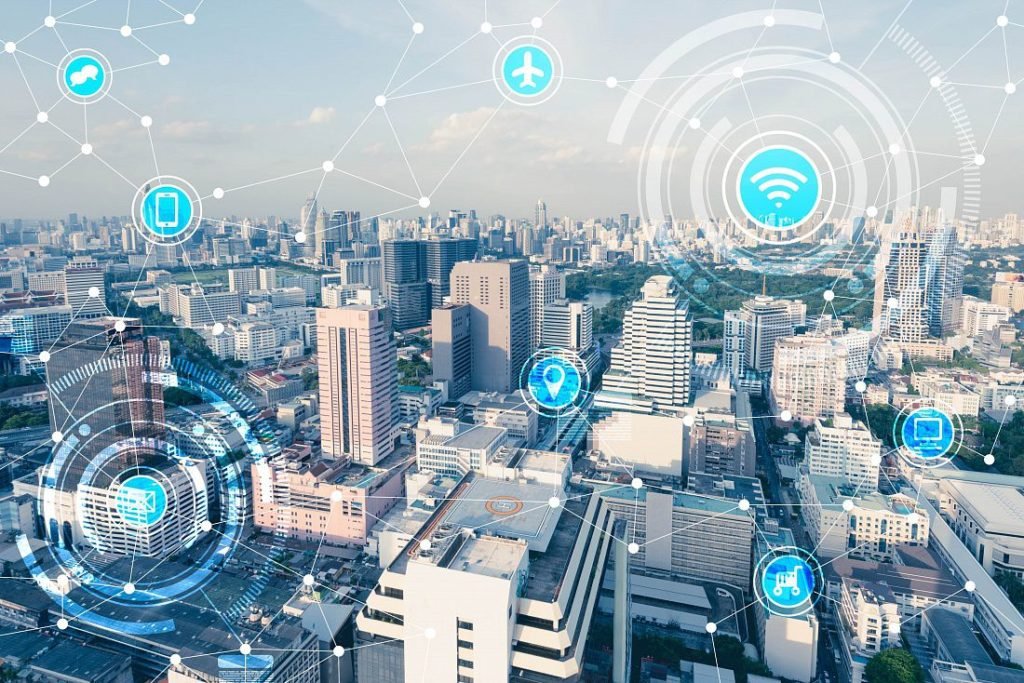 One of the most interesting projects from a practical point of view, which is currently being used in real work, is "AMBIOT"
We are talking about an IoT platform (using cloud technologies), which allows you to control lighting not just within a single object or group of buildings, but entire cities.
From a technical point of view, the solution looks like this:
The control center is a server, which can be virtual or physical.
For groups of buildings, intelligent lighting control cabinets (ISHUO) are installed. As a rule, they are connected using wired Power Line Communication (PLC MESH) technology. Cabinets accumulate information about energy consumption, and also provide interaction with other systems, as an option, fire and burglar alarms.
Operator stations and individual lighting fixtures are connected through controllers using LoRaWAN® (Long Range Wide Area Networks) wireless technology, which allows the transmission of small amounts of data over significant distances sufficient to organize a network throughout the city.
Feedback from the operator stations and the server is carried out using special multicards. This approach provides multi-level management and differentiation of access rights.
The software provides the ability to generate all types of reports to organize information.
Conclusions
In conclusion, the following should be said. Artificial intelligence itself is still in its infancy, one might say, adolescence. However, even today it is possible and necessary to use innovative developments, including in the field of housing and communal services.