Shopclues is one of the shopping e-commerce which got popular within very short period.It was founded in 2011 and become the largest online marketplace for small sellers to manufacturers.Shopclues has the main focus to offer the cheapest price to their customers.It has now 3.5 lakh merchants and 12,750 different categories.They have reached to 100 million visitors per month and its keep growing.Shopclues deliver items to 29,000 pin codes in India.At Shopclues you can buy products from all categories.Some of the most popular are Mobile Phones, Laptops,Fashion, Home Appliances, Electronics,Shoes and Home Kitchen products.
Shopclues delivery partners :
You can order item for any of your location in India.Shopclues has associated with some of the reputed logistics company in India to delivery on time.Depending on your area shipment hand over to the particular company.You can see details in your account.
How shipping process ?
This is simple and works in same way as other shopping sites.As soon as place order,the order confirmation is sent to the seller.Seller updates the shipment with courier consignment number and you receive a message from Shopclues regarding order shipped successfully.
How to track order shipment status ?
You can track shipment details in multiple ways.These are following :
1. Account Dashboard : Log in to order dashboard to check the recent order history.All orders are listed below with date and order number,status and action.Click on a particular order to know about the shipment.Now all shipment progress are shown with a beautiful green progress bar.If you want to know about courier name click on "Shipment details" tab.
Without Login :
For quick delivery status, use their sidebar order status button.This will let you lookup order without login to dashboard.Enter order number & registered email ID in the following box.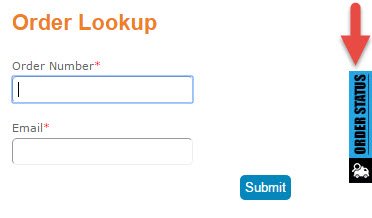 Track by email :
You can track order checking email inbox.Shopclues sends order details with shipping information.Here you need to visit the particular courier website to check the current location.Please make sure that you are using correct AWB number or consignment number for checking status.
Following SMS :
This is great service by Shopclues.You will receive messages after shipping an order.Just follow all incoming notification by Shopclues to track your parcel.
Change order address :
Yes, changing address is possible if the order does not reach to courier.You can't request to modify address details if parcel handed over to courier partner.You can request Shopclues support team.
If Delivered to wrong address ?
If you see courier company has marked to another city,you should contact Shopclues care to inform about this mistake.The customer care team will contact courier company on behalf of you.
Delay more than 5 days since it was shipped :
Generally, delivery takes 3 to 4 working days for all local areas.If you don't see any update from the courier side within 5 days,you can contact customer team.The entire shipping will be handled by them.
Order status is On-Hold, what does it mean?
Shopclues check the quality of packaging and products.If any issue occurs its hold by authority.You may need to wait few days until it resolved.
Customer Care :
Customer Care Number : +91 9222 20 1010
Phone support – +(91)-22-66149696
Email Support – support@shopclues.com
(0124) 441 4888 9am – 12am, Mon-Sun
Head Office Address :
Headquarters & Registered Office Clues Network Pvt. Ltd.
Building No. 112,
Sector – 44,
Gurgaon, 122 001, Haryana, India
USA Office Clues Network Inc.
530 Lytton Avenue
Palo Alto, CA 94301 USA
Facebook Fan Page : 
Twitter Handle : 
Google +
Pinterest Page :